Add this resource to your tool belt to ensure that you are using reliable, trusted, and credible information so that you too can build trust with your audience.
Trust is confidence in the honesty or integrity of a person, group or platform being genuinely helpful with a good intent.
An example of trust is the belief that someone, a group, or an organized platform is being truthful, honest, transparent, and acting out of integrity, with good intentions.  It is good concept to consider when making health or lifestyle advice from anyone.
For example, an overweight personal trainer gives you a plan to lose weight. What is your level of trust in the strategy they are suggesting?
A relationship coach, who is single and has been divorced 3 x is giving you advice on building a sustainable relationship with your partner. What are your intital thoughts?
A business investor is telling you everything you want to hear, but all of a sudden you notice how they speak and treat the waiter at dinner. What does your gut instinct say after watching their patterns of behavior when they thought no one was watching?
In previous blogs, I have shared how you can filter the noise of fake news, from reliable information in 8 simple steps. I have also shared how to determine if any source of information is reliable and credible by asking yourself 10 key questions.
ONE MESSAGE
This blog is designed for health professionals, coaches, practitioners, and even curious souls. Who wants to go direct to the most trusted and reliable sources of information. Before expressing their thoughts and opinions to the world.
Eight Trusted and reliable Sources
for Evidence-Based Resources for Good Health & Wellbeings.
If you have a health, coaching or lifestyle-based independent media platform. make sure you are starting with these resources to gather and curate your knowledge base, before sharing your amazing expressions with the world.
Remember we don't want to add to the growing body of fake news
A central principle in evidence translation is that all evidence must be critically appraised, regardless of its source.
Evidence hierarchies can provide you with a 'best bet' in terms of the quality of work, but individual articles should still be critically appraised. For example, a robust cohort study might provide stronger evidence than a poorly conducted RCT. While expert opinion and consensus sit at the bottom of the Levels of Evidence Pyramid and does not feature in the NHMRC's evidence hierarchy, this may nonetheless be an important aspect of having research findings implemented in clinical practice and should be given due consideration in evidence translation. Methods such as Delphi studies can also be used to aggregate expert opinions.
Example of a Delphi Study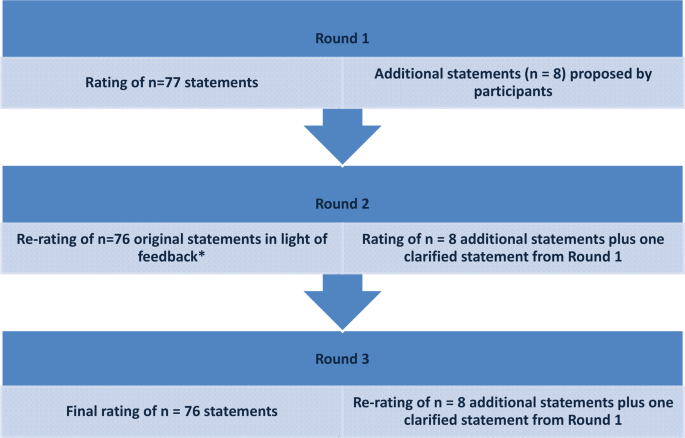 Science is the pursuit and application of knowledge and understanding of the natural and social world following a systematic methodology based on evidence.
The scientific methodology includes the following:
Objective observation: Measurement and data (possibly although not necessarily using mathematics as a tool)
Evidence
Experiment and/or observation as benchmarks for testing hypotheses
Induction: reasoning to establish general rules or conclusions drawn from facts or examples
Repetition
Critical analysis
Verification and testing: critical exposure to scrutiny, peer review and assessment
It is the pursuit of seeking, understanding, and explaining the unknown. So that we can guide our future decisions and applications. At the moment it is a fairly linear process. Even our best scientists who are attempting to create a "theory of everything"
Why define science?
In 2009, the Science Council agreed that it wanted to be clearer when it talked about sound science and science-based policy. The Science Council has "science" in its name but had not previously clarified what this actually meant. In addition to developing a better understanding of what types of organisations might become members, it was felt that the recent inclusion of the advancement of science as a charitable activity in the 2006 Charities Act suggested that in that context a definition would be useful, this was how this definition arose.
"Because 'science' denotes such a very wide range of activities a definition of it needs to be general; it certainly needs to cover investigation of the social as well as natural worlds; it needs the words "systematic" and "evidence"; and it needs to be simple and short. The definition succeeds in all these respects admirably, and I applaud it therefore." A C Grayling commending the definition in the Guardian, March 2009
3.  Community Guide
The Guide to Community Preventive Services (The Community Guide) is a collection of evidence-based findings of the Community Preventive Services Task Force (CPSTF). It is a resource to help you select interventions to improve health and prevent disease in your state, community, community organization, business, healthcare organization, or school.
The Community Guide
4. Cochrane library
Trusted evidence.Informed decisions.Better health.
5. Uptodate
Healthcare professionals around the world turn to UpToDate as the one trusted reference for answers even when the evidence isn't clear.
When you face a challenging clinical question or need to confirm your approach, you can turn to UpToDate for trusted answers based on the latest evidence and best practice.
6.  True Health Initiative
Changing Policy | Changing Minds | Improving Lives
We are a global coalition of world-renowned experts, fighting fake facts and combating false doubts to create a world free of preventable diseases, using the time-honored, evidence-based fundamentals of lifestyle and medicine.
Think no two experts agree? Think again.
In today's society, a multitude of competing agendas and motivations obscure the fundamental, simple truths of healthy living. If we don't create enduring, sustainable change, we submit to a world where chronic disease and premature death are the norms, not the exception.
There's a better way.
7. Global Blue Zones
Our work is rooted in our research and identification of the world's longest-lived cultures and most extraordinary populations.
8. Selfcare.global
Join the RISING BILLIONS. Start your Personalised Journey to Self Awareness, Care, Mastery, Expression & Impact.
Summary
Add this to your tool belt to ensure that you are using reliable, trusted, and credible information so that you too can build trust with your audience
Remember to filter the noise of fake news, from reliable information in 8 simple steps and to ask yourself 10 key questions to determine if a source of information is worth listening to.
Ultimately trust is when what we say and do are in complete harmony. If unsure, simply step back and watch patterns of behavior. It will help you see the whole truth in any situation.
If you have any other GO-TO resources in your field of expertise, please share them below and help us build a thread of reliable sources.