"'Someday' is a disease that will take your dream to the grave with you." –Tim Ferris
The 4-Hour WorkWeek
Have you read or listened to The 4-Hour Work Week by Tim Ferris? This book sat on my table for years. I had my dream job, but lacked my dream life. When I burned out at 26, I became curious and picked this book up to see what I was missing. I asked myself. How could I cover all my basic needs (food, water, shelter, lifestyle) in 4 hours of work? This one simple question, lead me to learn about working smarter, not just harder.
Trading time for money wasn't it? Thats the trap
I needed to learn how to leverage my time
I needed to learn how to increase my value
I needed to learn how to leverage my unique skills and talents
I needed to learn how to make money whilst I slept.
Current Freelance Statistics
In just the U.S, freelancers contributed $1.35 trillion to the U.S. economy in 2022
70% of small to medium-sized businesses have worked with freelancers at least once
Over half of all businesses employ freelancers, up from 48% in 2018
The freelance economy is the fastest-growing industry with 78% year-on-year growth
There are 57.3 million freelancers in the US alone.
By 2027 this number will grow to 86.5 million
Future Trends in Freelance Work
At 78% year-on-year growth in revenue, the United States has the fastest-rising freelance economy
Countries with lower domestic work opportunities are seeing a surge in freelance professionals
The global freelance platforms market set to reach $18.3 billion by 2031, with a sustainable CAGR of 15.1%
The fastest-growing segment of freelancers is those making $75,000 or more
It is predicted that the percentage of 40-year-olds and younger choosing to freelance will rise 87% by 2031
The "New Rich" (Time)
This book is a good start. It aims to give you more time and more mobility. I visualized my ideal day and with a curious mind, started envisioning a life where my time and location were free, my bank account was full, I had more than I needed and surplus to self-fund my own passion projects, look after my front doorstep and help anyone in need along the way.
Time freedom and freedom of location are two of the defining attributes of what Ferriss refers to as the "New Rich." The New Rich have abandoned the deferred-life plan to create luxury lifestyles in the here and now, and Ferriss argues that you can too.
Ferriss states that people don't want to be millionaires; they want to experience what they think only millionaires can buy. Consider this, "you don't need to own a 20 million dollar boat if you have a friend who has one". It's about creating win/win/win scenarios. Which allows anyone from anywhere to live their ideal day in their own unique way.
The Millionaire lifestyle with 40k per year
The question, therefore, is how can you achieve the lifestyle of a millionaire, without having a million dollars in the bank?
Who is richer?
John makes 30k a year living in Bali, and Michael makes 150k a year living in New York.?
Over five years, Ferriss set out to answer this question and has laid out the key to separating income from time. Consequently, 'The 4-Hour Work Week' is not about how to save, or about finding your dream job; it's about how to free up the most time and automate your income.
What is Freelancing?
Today an increasing number of workers are veering off the time-honored career path of joining an employer, rising through the ranks and staying for decades. Some are freelancing by choice, relishing the opportunity to set their own schedules, choose their assignments and work independently. Others have turned to contingent work out of economic necessity.
Imagine choosing WHEN you work, HOW you work and WHO you work with? Wouldn't that be a dream? All whilst defining your own value and having control of your time and the freedom to work from where ever you choose to be. Like, the millions you see on social media living to work. Never needing a holiday from the life they live.
Freelancing has long been commonplace in professions ranging from writing, editing and design to many skilled trades, real estate appraisal and even fitness training. Statistics do not always provide a clear picture of the contingent workforce because of the variety of working arrangements that are possible. But as digital marketplaces offer individuals new avenues for generating income, their numbers could grow sharply in the decade ahead. Platforms are creating flexible opportunities for individuals who want to be free agents, but they are raising real concerns about the insecurity associated with the so-called "gig economy."
What is Gig Economy? (Uber, Airbnb)
If you've ever used an app to call a freelance taxi driver (uber, LyfT), book a holiday rental, (Airbnb), order food (gojek, uber eats) or buy a homemade craft then you've probably participated in this segment of the economy.
The "gig economy involves the exchange of labor for money between individuals or companies via digital platforms that actively facilitate matching between providers and customers, on a short-term and payment-by-task basis," according to the UK government.
Freelancers offering professional services can participate in digital marketplaces to secure a greater volume of assignments, market themselves, use secure payment systems and vet potential clients. One of the largest is Upwork (formerly Elance-oDesk), which connects freelancers with assignments in areas such as software programming, graphic design, marketing and mobile development. It connects some 3.6 million client businesses with more than nine million freelancers from 180 countries.
What is a Distributed Workforce?
A distributed workforce simply means a business has employees spread across multiple locations instead of having everyone work under one roof.
For example, some employees may work from company headquarters while others work from satellite offices, coworking spaces, or their home offices.
Having a distributed work environment has its advantages, but also its challenges. However, businesses are eager to make distributed work environments work.
When managed successfully, a distributed workforce provides benefits ranging from lower overhead and increased diversity to working with some of the most talented people for a given skill set. Here's an overview of a distributed workforce model and what you can expect:
What is a Remote Workforce?
Remote work is a way individual works and is based on the idea that an individual does not need to work in a specific location to complete his work.
The difference between a distributed workforce and remote work is that in a distributed workforce, a company's workforce is spread out across different locations. The workforce model is used as a strategy for meeting a company's goals. For example, people may work in a corporate headquarters, yet customer service may be located in cities across several time zones to provide 24/7 support.
And development teams may be located in satellite offices outside of expensive cities with shrinking talent pools so that the business can hire top talent within budget.
Example 1. Accounting (upwork.com)
An example, my accountant in Australia, utilizes a team in the Philippines to do the heavy lifting and bookkeeping in the background using automated systems like Quickbooks or Xero so that he can focus on the higher-level tasks.
Example 2. Graphics and Design (fiverr.com)
When I was publishing the SelfCare Book, I found a graphic designer from the Congo, Africa, who was amazing and completed the work for a fraction of the cost of an Australian designer. I tested 5 freelance designers on Fiverr.com, before finding the right fit for my project. We still work together today and we have been able to help build her business beyond Fiverr, into her own design agency. She still uses Fiverr to find new clients.
3 Global Freelance Worker Platforms
---
1 / FIVERR
Think outside in-house work. Find talent from all over the world. To get on-demand expertise for every project by vetted freelancers. See how Project Partners help businesses like yours bring bigger projects to the finish line: success stories to inspire you
What can you use Fiverr for?
2 / UPWORK
Upwork began over two decades ago by pioneering a better way of working, helping businesses find more flexibility and connecting talent with more opportunities.
Their mission to create economic opportunities so people have better lives has taken us so much further. As a result, we've become the world's work marketplace where everyday businesses of all sizes and independent talent from around the globe meet here to accomplish incredible things: The world's work marketplace

3 / Chat GPT & AI freelancers?
The future is getting interesting. Technology is a double-edged sword that should enable us to free our time and location. In the same way, your laptop and mobile phone can be the driving force behind your remote or freelance income.
Chat GPT is evolving as an AI freelance worker. This may change everything for freelance and remote work. Some see it as a competition, but more and more, I see freelancers in my network using Chat GPT as their own personal assistant, which enables them to have a greater output in less time for the work they do. As an example, my content creator friends, use it to create unique articles. My designer friends, use AI to create unique graphics and art pieces. The applications are endless.
So what is it? Well, ChatGPT is an AI-powered language model developed by OpenAI. It has been trained on a massive amount of text data from the internet and can generate human-like text responses to a given prompt. It can answer questions, converse on a variety of topics, and generate creative writing pieces.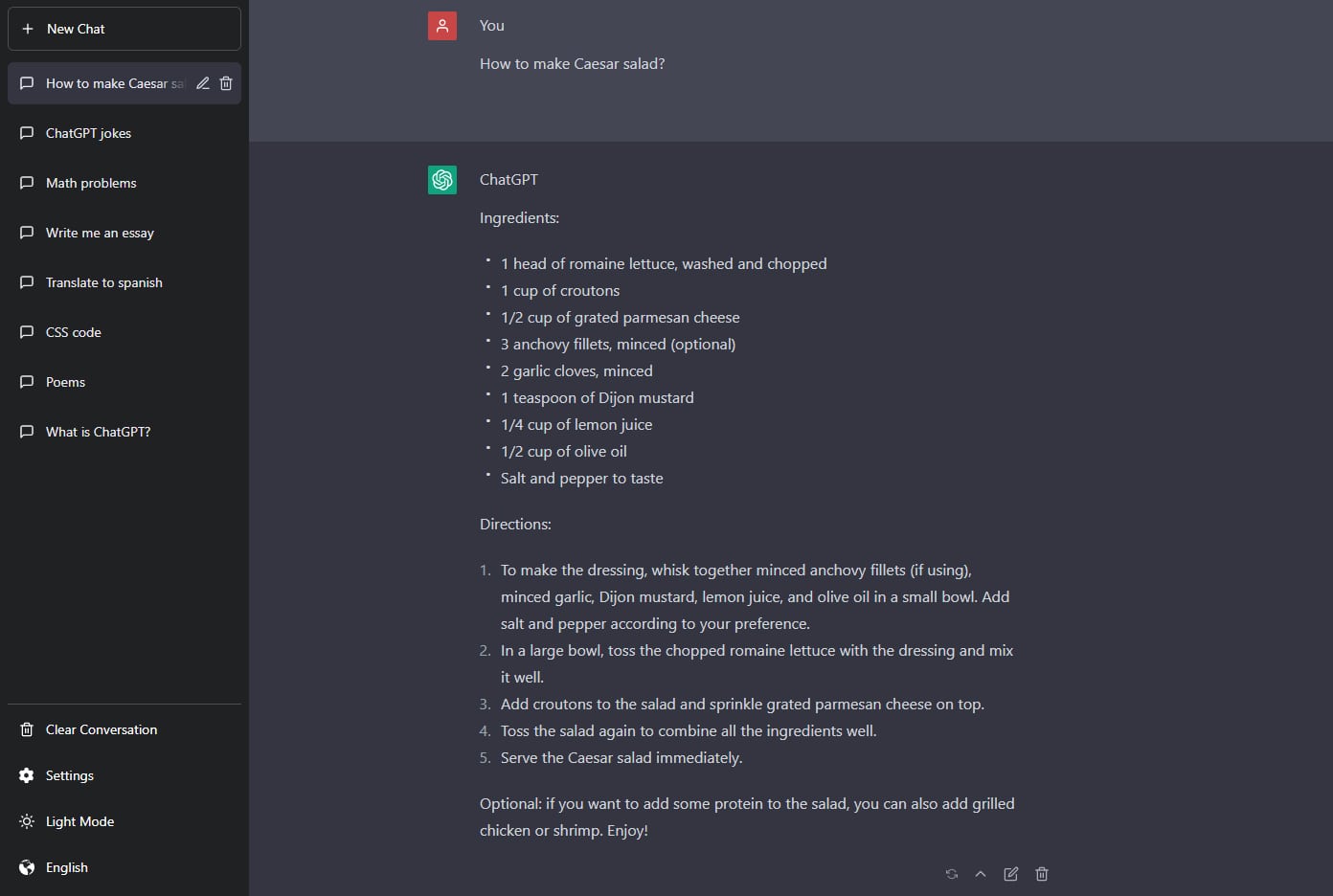 SUMMARY
Today, I live a millionaire lifestyle and my ideal day. The kicker is that I only require less than 40k USD a year to cover all my basic needs. This means that every dollar I make over 40k is surplus to invest, fund projects, give to social impact projects, support friends/family, and anything else I choose to do.
Let's help you find your own flow. For me, it started with working remotely, by partnering with an aligned company. When I built my own businesses, I leveraged remote workers and distributed workforces, without ever needing an employee or full-time worker. Today, I work remotely teaching others how to do the same from their own zone of genius, toward their own ideal lifestyle and day.
INVITATION
If you would like some guidance and support.
Apply for my 1k challenge here

Big Love,
I help you live your ideal day, every day.